Please view the Gateway instructions below:
Objective:
Technical connection between your Ingenico Gateway and the Splitit portal.
Action:
To communicate with the Ingenico API you will need to enter the following credentials into the Splitit portal:

PSPID – The payment service provider ID (PSPID) for your Ingenico account (alphabetical and numerical characters).
There is a difference between testing mode PSPID and live mode PSPID.

User ID - Define a name for the user. Such as

PSPID+"_API".

Password-

Enter a new password of your choice.

SHA In Key- SHA In Pass Phrase, a new password the merchant created while configuring the account.

SHA (Secure Hash Algorithm) Version. For Ex. SHA1, SHA256 or SHA512- An Hash Algorithm
To configure the plugin to accept payments (Authentication API request) access Live Backoffice:

To Create a New API user and retrieve your credentials:
Log in to your

Ingenico account

Go to Configuration > Users.

3. Click on "NEW USER" below the table

UserID: Desired UserID, define a static user name ID.

User's Name: enter your name.

E-mail address: enter your email address for notifications.

Profile: choose Admin user.

Special user for API: tick box, the user will integrate with the API.

Access rights: tick all the 3 boxes.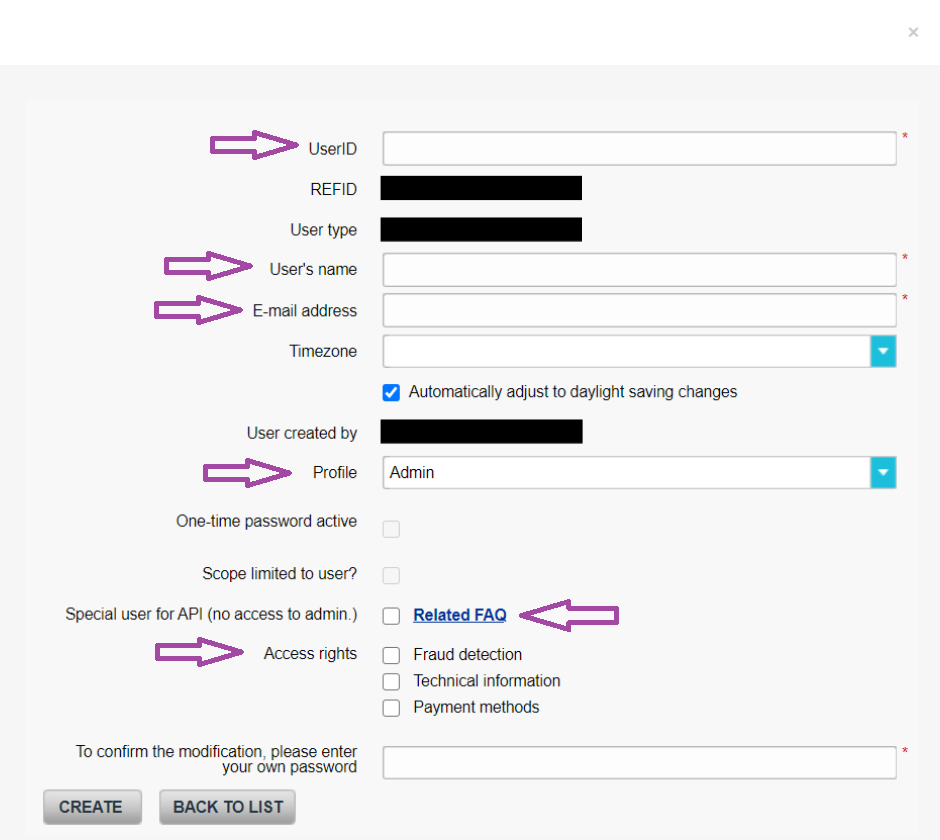 Click on

Create


After clicking on

Create, you need to define an API password yourself on the next screen.


Create a new Password and then

SUBMIT- THIS PASSWORD WILL BE USED FOR CONFIGURATION WITH SPLITIT.


Go to

Configuration

Go to

Technical information

Go to

Global Security Parameters

On

Data and origin verification
Confirm that the filled URL is correct.

Please select SHA In Key. Press VISIBLE to save the Pass Phrase.


Go to Configuration > Technical Information > Transaction Feedback

The 2 boxes "I would like to receive transaction feedback parameters on the redirection URLs" must be ticked.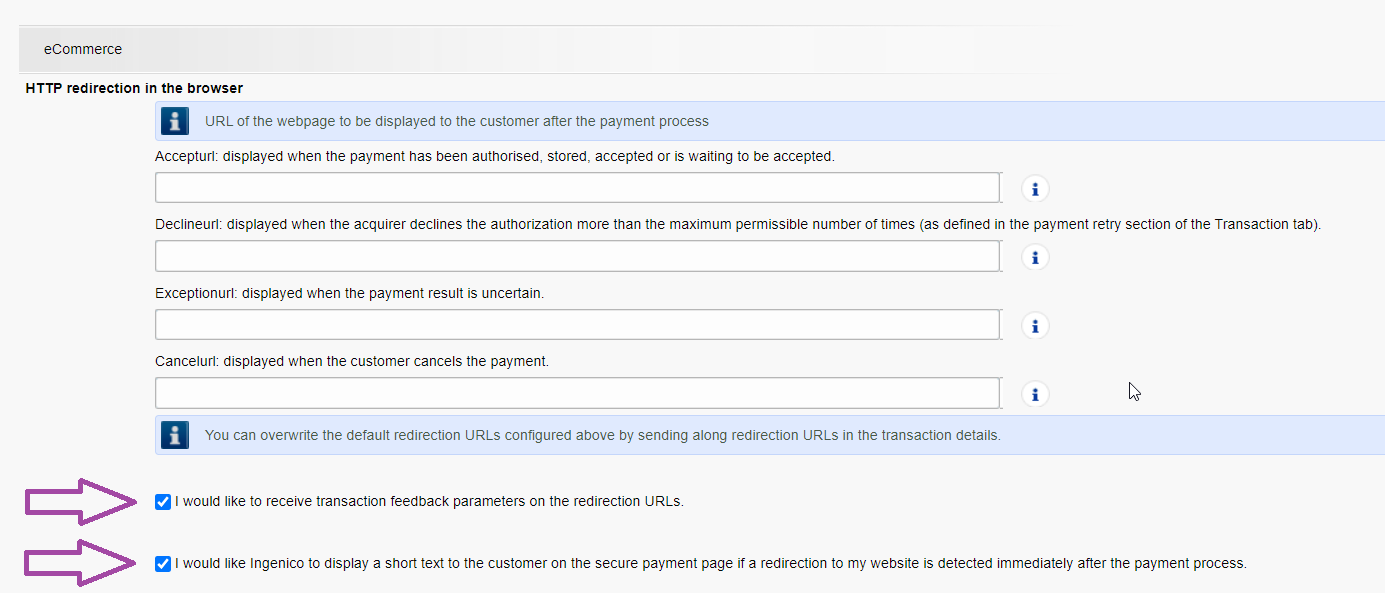 Note: no need to fill the urls themselves, this is done through our API calls.
Finalize the process:
Have the credentials into your Merchant Portal under the 'Credentials' section.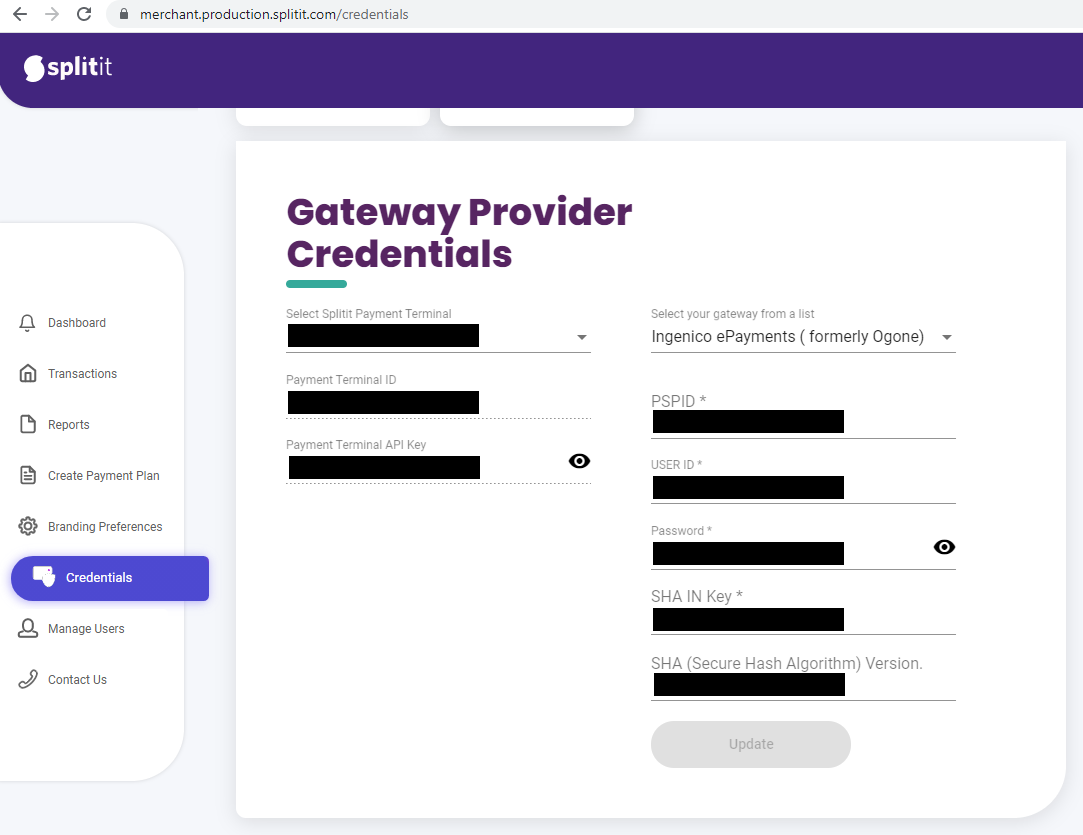 For any additional assistance please contact your personal Onboarding Manager or the Onboarding Team at onboarding@splitit.com
Contact and more information:

Ogone Platform (Ingenico) Customer Support
Merchant operates and support:
Europe +80042347328
USA +18553267119
Singapore +8003111027
China +4000023179
Korea +3083110004

Splitit Customer Support


References:

Ingenico's technical guide